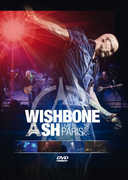 Wishbone Ash: Live In Paris 3 Nights Le Triton Theatre 2015 DVD 2015 16:9 Release Date 4/29/2016
Wishbone Ash is renowned as a live band and has consistently cataloged it's performances throughout it's 46 year career with live audio recordings from back in the 1970s like the incredible Live Dates album. - Now, in this era of DVDs and Online-Downloads, we wanted to offer a selection of songs that people have not heard them play live so frequently, alongside some much loved favorites. 
 The song selection therefore, reflects the later evolution of the band with some recent material like the atmospheric 'Heavy Weather' from the Elegant Stealth album as well as some 'deep tracks' from the band's long history. Hidden gems like 'Leaf and Stream' from the Argus album, have rarely been featured in live performance, for example. The same is also true for songs like 'Front Page News' and 'Surface To Air' from later recordings in the 1970s. - This intimate 8 camera shoot of the band playing in Paris over the course of 3 nights, features the best performances of the concert residency at Le Triton Theatre during the spring of 2015. We think you will enjoy this production whether you are a casual Ash fan or a diehard completist. Release for sale on the Oct-Nov 2015 UK tour. Recorded over 3 nights at Le Triton Paris May 2015 - Part of "Jailbait" is used for the closing titles and fade out.
Release Date: 4/29/2016

UPC: 4260000344566

Product ID: SOFO200199DVD

Weight: .15 lb

Distributor/Studio: Soulfood