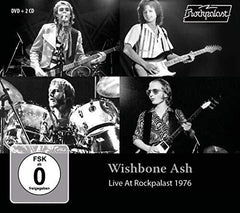 Wishbone Ash: Live At Rockpalast 1976 (2CD/DVD) Box Set 2019 Release Date 9/13/19
CD and BONUS DVD of this incredible live peformance!
This Wishbone Ash Rockpalast show from 1976 captures the band at their prime, offering a blistering live performance.
The live at Rockpalast show presented here was recorded at Sporthalle, Cologne, Germany on 1st December 1976 when the band still included the core original line-up of Andy Powell on guitar and vocals, Martin Turner on bass and vocals, Steve Upton on drums and Laurie Wisefield on guitar and vocals. It captures the band at their prime, offering a blistering live performance for over an hour and a half. They look young, lean and hungry and generate an onstage charismatic cool that as well as weirdly predating their punk/new wave detractors also displays the theatrical playfulness of a band who instinctively know they're on form.
Andy Powell exudes a cocky confidence hidden behind sunglasses, wielding his trademark Gibson Flying V, resplendent in dark waistcoat with shirt sleeves rolled up ready for the job, while lead vocalist and bassist Martin Turner displays a flamboyance in delivery and his striped shirted and nautical look, neckerchief, single earring and bare feet all add to the effect. Featuring a set made up of four tracks from their breakthrough album Argus, and a selection of back catalog favorites, and opting for only one track, 'It Started In Heaven', from their then forthcoming album of March 1976, Locked In, it's obvious from the audience's cheer that greets the opening riff to ''The King Will Come'' from Argus that they are performing to Wishbone Ash devotees, and testament to the staying power and popularity on the continent of their breakthrough album. 
LABEL: Made in Germany Musi

UPC: 885513902627

GENRE: Rock

RELEASE DATE: 9/13/2019

PRODUCT ID: MDIG90262.2

WEIGHT: .32 lb