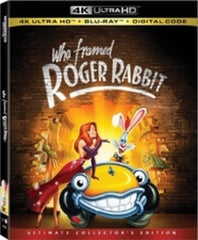 Who Framed Roger Rabbit 1998 (4K Ultra HD+Blu-ray+Digital Copy) 2021 Release Date: 12/7/2021
The mind-blowing, Oscar-winning blend of Raymond Chandler and Tex Avery stars Bob Hoskins as a seedy private eye in a '40s Hollywood populated by humans and animated "toons" who must clear cartoon star Roger Rabbit of a murder charge.
With Christopher Lloyd, and the voices of Charles Fleischer and Kathleen Turner; cameos by Mickey Mouse, Bugs Bunny, Daffy Duck, Donald Duck, and others. 104 min. Widescreen (Enhanced); Soundtrack: English. Two-disc set.
Starring: Bob Hoskins, Christopher Lloyd, Jack Angel, Joanna Cassidy, Stubby Kaye, Alan Tilvern, Mike Edmonds, Charles Fleischer, David Lander, Wayne Allwine

UPC: 786936890273

Directors: Frank Marshall, Robert Zemeckis, Ian, Ian Sharp, Max Kleven

Rated: PG

Release Date: 12/7/2021

Product ID: WD21729400UHD

Subtitles: ENG, FRE, SPA

Dubbed: FRE, SPA

Original Language: ENG

Original Year: 1988

Run Time: 104 minutes

Distributor/Studio: Walt Disney Video

Number of Discs: 2

Weight: .22 lb