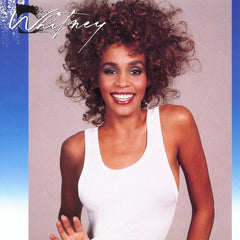 Whitney Houston: Whitney (LP) 2023 Release Date: 2/10/2023
Description
The work of one of the Most Awarded Female Artists of all time lives on in this 1 LP vinyl, Whitney.
Reaching 10x Platinum status, the artist's GRAMMY-nominated second studio album went Diamond-certified, adding to the artist's superstardom that eventually included being the first African-American woman to earn three Diamond album certifications.
"I Wanna Dance with Somebody (Who Loves Me)," "Didn't We Almost Have it All," "So Emotional," and "Where Do Broken Hearts Go" all turned into Billboard Top 10 Singles and - along with previous winning hits - gave her seven consecutive #1 singles.
WHITNEY VINYL LP
- Disc 1 -

1

 I Wanna Dance with Somebody (Who Loves Me)

2

 Just the Lonely Talking Again

3

 Love Will Save the Day

4

 Didn't We Almost Have It All

5

 So Emotional

- Disc 2 -

1

 Where You Are

2

 Love Is a Contact Sport

3

 You're Still My Man

4

 For the Love of You

5

 Where Do Broken Hearts Go

6

 I Know Him So Well
Label: Sony Legacy

UPC: 196587021511

Genre: Soul/R & B

Release Date: 2/10/2023

Product ID: SNYL870215.1

Weight: .64 lb