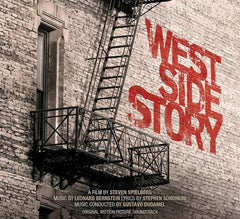 West Side Story; Original Soundtrack 1961 (CD) 2021 Release Date: 12/10/2021
In an upcoming adaptation by 20th Century Fox, West Side Story will represent Steven Spielberg's first musical project. The original West Side Story score will be adapted for the new film by David Newman, who also wrote the scores to Ice Age, Matilda and Anastasia, the latter of which won him an Academy Award nomination for Best Original Score.
Leonard Bernstein and Steven Sondheim's original musical was first adapted for the big screen in 1961, just four years after it first hit Broadway. It's now receiving its long-anticipated second outing.
Composer David Newman arranged and adapted Bernstein's original score for the film. Gustavo Dudamel conducted the New York Philharmonic during the film's recording sessions in 2019, with additional recording by the Los Angeles Philharmonic done the following year. Jeanine Tesori served as vocal coach, while frequent Spielberg collaborator John Williams served as music consultant. All of the songs were pre-recorded and used as playback on set, with the exception of "One Hand, One Heart," which did not use th
TRACK LISTING with CREDITS
1. Prologue
2. La Borinqueña (Sharks Version) - Performed by David Alvarez, Sharks
3. Jet Song - Performed by Mike Faist, Kyle Coffman, Kevin Csolak, John Michael Fiumara, Patrick Higgins, Jets
4. Something's Coming - Performed by Ansel Elgort
5. The Dance at the Gym: Blues, Promenade
6. The Dance at the Gym: Mambo
7. The Dance at the Gym: Cha-Cha, Meeting Scene, Jump
8. Maria - Performed by Ansel Elgort
9. Balcony Scene (Tonight) - Performed by Rachel Zegler, Ansel Elgort
10. Transition to Scherzo / Scherzo
11. America - Performed by Ariana DeBose, David Alvarez, Ana Isabelle, Jennifer Florentino, Natalie Toro, Arianna Rosario, Ilda Mason, Jeanette Delgado, Annelise Cepero, Tanairi Sade Vazquez, Jamila Velazquez, Edriz E. Rosa Pérez, Melody Martí, Gaby Diaz, Juliette Feliciano,
Isabella Ward, Maria Alexis Rodriguez, Yesenia Ayala, Gabriela M. Soto, Sebastian Serra,
Julius Anthony Rubio, Ricardo A. Zayas, Yurel Echezarreta, Kelvin Delgado, Ricky Ubeda,
Carlos Sánchez Falú, Adriel Flete, Jacob Guzman, Carlos E. Gonzalez, David Avilés Morales, Andrei Chagas, David Guzman
12. Gee, Officer Krupke - Performed by Kevin Csolak, John Michael Fiumara, Jess LeProtto, Ben Cook, Kyle Allen, Myles Erlick, Patrick Higgins
13. One Hand, One Heart - Performed by Ansel Elgort, Rachel Zegler
14. Cool - Performed by Ansel Elgort, Mike Faist
15. Tonight (Quintet) - Performed by Mike Faist, David Alvarez, Ariana DeBose, Ansel Elgort, Rachel Zegler, Jets, Sharks
16. The Rumble
17. I Feel Pretty - Performed by Rachel Zegler, Ana Isabelle, Ilda Mason, Annelise Cepero, Jamila Velazquez, Andréa Burns, Tanairi Sade Vazquez, Yassmin Alers
18. Somewhere - Performed by Rita Moreno
19. A Boy Like That / I Have a Love - Performed by Ariana DeBose, Rachel Zegler
20. Finale
21. End Credits
West Side Story – Stephen Spielberg 2021 [Original Motion Picture Soundtrack]