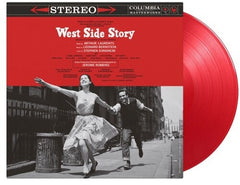 West Side Story 1957 (Original Broadway Cast Recording) - Limited Gatefold (180-Gram Translucent Red Colored Vinyl 2 LP) Import Leonard Bernstein: LP 2023 Release Date: 1/20/2023
65th anniversary edition of 1000 individually numbered copies on translucent red coloured 180-gram audiophile vinyl. West Side Story is the recording of the 1957 Broadway production of the same-titled musical. All music is composed by Leonard Bernstein and lyrics written by Stephen Sondheim. 
The musical premiered in 1957 and was performed 732 times before the cast went on tour. West Side Story was nominated for six Tony Awards, including Best Musical in 1958. In 1961, the film West Side Story was released, which was based on the same-titled musical. The success of the movie (winning multiple Grammy Awards) bolstered the popularity of the musical even more.
- Disc 1 -

1

 Prologue

2

 Jet Song 

3

 Something's Coming (Larry Kert)

4

 Dance at the Gym (Ensemble)

5

 Maria (Larry Kert)

6

 Tonight (Carol Lawrence and Larry Kert)

7

 America (Chita Rivera and Girls)

8

 Cool (Mickey Calin and the Jets)

9

 One Hand, One Heart (Carol Lawrence and Larry Kert)

- Disc 2 -

1

 Tonight (Quintet) (Ensemble)

2

 The Rumble

3

 I Feel Pretty (Carol Lawrence and Girls)

4

 Somewhere (Ballet) (Reri Grist and Ensemble)

5

 Gee, Officer Krupke! (Eddie Roll, Grover Dale and the Jets)

6

 A Boy Like That and I Have a Love (Carol Lawrence and Chita Rivera)

7

 Finale''