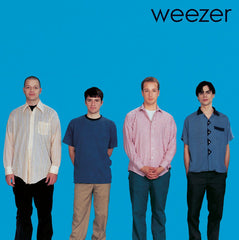 Weezer 1994 (Blue Album LP) 2016 Release Date: 10/28/2016
Vinyl LP pressing includes 12 x 24 poster. Weezer (also known as The Blue Album) is the debut studio album by American rock band Weezer, released on May 10, 1994. The album was produced by Cars frontman Ric Ocasek and recorded in Electric Lady Studios in New York City.
The Blue Album was supported by three singles: "Undone - The Sweater Song", "Buddy Holly" and "Say It Ain't So", which brought Weezer mainstream success, helped by music videos directed by Spike Jonze. The album reached #16 on the Billboard 200 and became a certified triple-platinum in the United States and became a certified double-platinum in Canada. Weezer formed in Los Angeles in 1992 - they have sold 9.2 million albums in the US and over 17 million worldwide.
Tracks
1

 My Name Is Jonas (Side A)

2

 No One Else (Side A)

3

 The World Has Turned and Left Me Here (Side A)

4

 Buddy Holly (Side A)

5

 Undone - the Sweater Song (Side A)

6

 Surf Wax America (Side A)

7

 Say It Ain't So (Side B)

8

 In the Garage (Side B)

9

 Holiday (Side B)

10

 Only in Dreams (Side B)
LABEL: Geffen Records

UPC: 602547945396

GENRE: Rock

RELEASE DATE: 10/28/2016

PRODUCT ID: GEFB002515201.1

WEIGHT: .57 lb