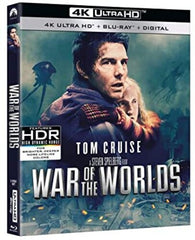 WAR OF THE WORLDS (4K Mastering, Blu-ray, Digital Copy 2 Pack) Widescreen) 4K Ultra HD Rated: PG13 Release Date: 5/19/2020
Steven Spielberg's masterful take on the H.G. Wells classic stars Tom Cruise as Ray Ferrier, a divorced New Jersey Everyman whose weekend with his kids (Dakota Fanning, Justin Chatwin) is shattered by an alien invasion.
As the decidedly unfriendly E.T.s and their menacing tripods devastate the planet, Ferrier bravely attempts to reach his ex-wife (Miranda Otto) in Boston, encountering the best and worst of humanity along the way. Tim Robbins also stars. 117 min. Widescreen; Soundtrack: English. Two-disc set.
STARRING: Tom Cruise, Dakota Fanning, Miranda Otto, Justin Chatwin, Tim Robbins, Yul Vazquez, Camillia Sanes, Michael Brownlee, Roz Abrams

UPC: 032429335371

DIRECTOR: Steven Spielberg

RATED: PG13

GENRE: Science Fiction

RELEASE DATE: 5/19/2020

PRODUCT ID: PRT59210493000UHD

SUBTITLES: ENG, FRE, POR, SPA

DUBBED: FRE, POR, SPA

ORIGINAL LANGUAGE: ENG

ORIGINAL YEAR: 2005

RUN TIME: 117 minutes

DISTRIBUTOR/STUDIO: Paramount

NUMBER OF DISCS: 2

WEIGHT: .22 lb