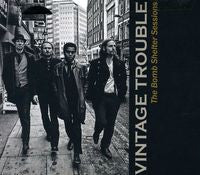 Vintage Trouble: Bomb Shelter Sessions CD 2012
2012 release from the Soul/Rock quartet. Vintage Trouble, based in Los Angeles, is the brainchild of Ty Taylor (vocal) and Nalle Colt (guitar). Combining their love for original Soul and Rhythm & Blues, the two set up a basic home studio in Venice Beach and started crafting the beginnings of Vintage Trouble. Already a friend of both, Rick Barrio Dill (bass) came along and added his shared bass influences and energy into the newly formed project. This clip below is a live version of Still And Always Will for audio sample only-this is a CD no video on the CD.
To make the band complete, Richard Danielson (drums) was recruited not long after to add the authentic and edgy take that was needed on the drums. With these collective energies and inputs in place, a new kind of soul band had been born with unlimited creativity and force.
Track Listing
| | | | |
| --- | --- | --- | --- |
| |   | Track # | Title |
| | | 1 | Blues Hand Me Down |
| | | 2 | Still and Always Will |
| | | 3 | Nancy Lee |
| | | 4 | Gracefully |
| | | 5 | You Better Believe It |
| | | 6 | Not Alright by Me |
| | | 7 | Nobody Told Me |
| | | 8 | Jezzebella |
| | | 9 | Total Strangers |
| | | 10 | Run Outta You |
Product Reviews
Echoing the vintage blues-rock of Chuck Berry and Led Zeppelin, and the timeless soul of Otis Redding and Sam Cooke, The Bomb Shelter Sessions is Californian four-piece Vintage Trouble's attempt to re-create the era of vinyl records and juke joints. Produced by Rogers Masson (Daughtry, Day of Fire), and recorded live in just three days at the Bomb Shelter studios in Laurel Canyon, its 11 retro tracks, described by James Brown-esque frontman Ty Taylor as "primitive soul," include the singles "Nancy Lee" and "Nobody Told Me." ~ Jon O'Brien, Rovi
Details
| | |
| --- | --- |
| | Vintage Trouble |
| | Bomb Shelter Sessions |
| | Rock |
| | Rock / Pop |
| | 24 April 2012 |
| | Unknown |
| | ~ Discs:1 |
| | Vintage Trouble ( VNTG ) |
| | Compact Disc |
| | |
| | 859704181108 |
| | D: CD |