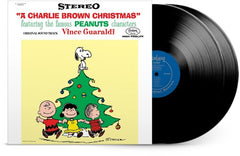 Vince Guaraldi: A Charlie Brown Christmas (Deluxe Edition 2 LP 180 Gram Vinyl Gatefold LP Jacket) Remastered) 2022 Release Date: 10/14/2022
Vinyl LP pressing with gold foil jacket. With such iconic tracks as "Christmas Time is Here" and "Linus and Lucy," the Vince Guaraldi Trio's A Charlie Brown Christmas is the second-best-selling jazz title in history. Certified 5x Platinum and a perennial best-seller, the soundtrack reached #6 on the Billboard Charts in 2021 which speaks to the enduring legacy of the album.
For this one-time only 2022 printing, the jacket has been wrapped in gold foil while the Peanuts characters and tree have been embossed for a striking look. 
- Disc 1 -

1

 O Tannenbaum

2

 What Child Is This

3

 My Little Drum

4

 Linus and Lucy

5

 Christmas Time Is Here

- Disc 2 -

1

 Christmas Time Is Here

2

 Skating

3

 Hark, the Herald Angels Sing

4

 Christmas Is Coming

5

 FÜR Elise

6

 The Christmas Song

7

 Greensleeves
LABEL: Craft Recordings

NUMBER OF DISCS: 2

UPC: 888072245273

GENRE: Xmas Vocal

RELEASE DATE: 10/14/2022

PRODUCT ID: CRF444.1

WEIGHT: 1 lb