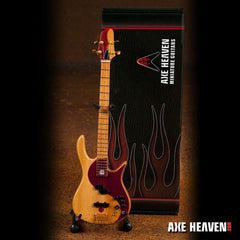 Victor Wooten Bela Fleck and the Flecktones Fodera Yin Yang Mini Bass Guitar Replica Collectible
NO FURTHER DISCOUNTS APPLY-NO AUTO DISCOUNT
Overview
Victor Wooten Béla Fleck and the Flecktones Fodera Yin Yang Mini Bass Guitar Replica Collectible.
This collectible miniature guitar replica was hand-crafted after bass virtuoso Victor Wooten's Ying Yang Guitar.
Wooten has won the "Bass Player of the Year" award from Bass Player Magazine three times in a row, and was the first person to win the award more than once.
Features
Brand: Axe Heaven

Size: Each guitar model is approximately 10" in length.

Each AXE HEAVEN® ornamental replica guitar is 1:4 scale and is individually handcrafted from solid wood, with metal tuning keys.

Includes a high-quality miniature adjustable A-frame guitar stand for display.

Packed in an AXE HEAVEN® guitar case gift box.

All mini guitars are packed in the same style box measuring 11.75" W x 4.5" D x 1.25" H

AXE HEAVEN® Miniature Replica guitars look great but are Not playable.

These ornamental miniature replica guitar collectibles make great gifts for musicians & music aficionados alike!

Weight: approximately 14 oz.

Officially licensed

Product materials are sourced from Brazil & Indonesia then assembled & packaged in the USA.
Brand: Axe Heaven
All Products: Victor Wooten
UPC:

661239449246

Product ID:

AXEH49246

Weight: .35 lb

Available Date: 9/10/2021

Last Return Date: 9/10/2021




Model Number: VW-292