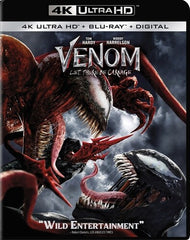 Venom: Let There Be Carnage (4K Ultra HD+Blu-ray+Digital Copy) 2 Pack Rated: PG13 2021 Release Date: 12/14/2021
As he tried to cope with the alien symbiote now sharing his body, Eddie Brock (Tom Hardy) couldn't turn down the invite that could recharge his flagging journalism career:
A prison sit-down with psychotic serial murderer Cletus Kasaday (Woody Harrelson). Freak circumstance caused the parasite to infect Kasaday as well-resulting in an escape and rampage that even Venom might not be able to stop. Showdown for the Marvel Comics supervillains co-stars Michelle Williams, Naomie Harris. 90 min. Widescreen; Soundtrack: English.
UPC: 043396570658

RATED: PG13

GENRE: Action / Adventure
THEME: Venom

RELEASE DATE: 12/14/2021

PRODUCT ID: CTR57065UHD

SUBTITLES: ARB, BUL, CHN, CRO, CZE, DAN, DUT, ENG, EST, FIN, FRE, GER, GRK, HUN, ICE, IDN, ITA, JAP, KOR, NOR, POL, POR, ROM, RUS, SLO, SLV, SPA, SWE, THA, TUR

CLOSED CAPTION: Yes

DUBBED: CZE, FRE, GER, HUN, ITA, JAP, POR, SPA, THA, TUR

ORIGINAL LANGUAGE: ENG

ORIGINAL YEAR: 2021

RUN TIME: 0 minutes

DISTRIBUTOR/STUDIO: Sony Pictures

NUMBER OF DISCS: 2

WEIGHT: .22 lb