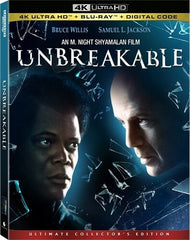 Unbreakable: (4K Ultra HD Blu-ray+Digital Copy) 2000 Release Date: 9/21/2021
Emerging unscathed as the sole survivor of a horrific train crash, Philadelphia security guard David Dunn (Bruce Willis) realizes his life has been free of injury and illness. Elijah Price (Samuel L. Jackson) is a brittle-boned comic book dealer with whom Dunn's condition-and surprising destiny-are linked in "The Sixth Sense" writer/director M. Night Shyamalan's suspenseful spin on the superhero genre.
With Robin Wright Penn, Spencer Treat Clark. 106 min. On two discs. Widescreen (Enhanced); Soundtracks: English Dolby Digital 5.1, DTS, Dolby Surround, French Dolby stereo, Spanish Dolby stereo; Subtitles: Spanish; deleted scenes; "making of" featurette.
Starring: Bruce Willis, Samuel L. Jackson, Robin Wright Penn, Spencer Treat Clark, Charlayne Woodard, Eamonn Walker, Leslie Stefanson, Johnny Hiram Jamison, Michaelia Carroll, Bostin Christoper

UPC: 786936890242

Directors: Larry Fulton, M. Night Shyamalan

Rated: PG13

Genre: Horror

Release Date: 9/21/2021

Product ID: WD21729200UHD

Subtitles: ENG, FRE, SPA

Dubbed: FRE, SPA

Original Language: ENG

Original Year: 2000

Run Time: 106 minutes

Distributor/Studio: Walt Disney Video

Number of Discs: 2

Weight: .21 lb