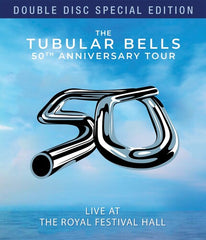 Tubular Bells 50th Anniversary Tour: Live At The Royal Festival Hall 2022 (Blu-ray) 2022 Release Date: 11/18/2022
Celebrate the 50th anniversary of Tubular Bells, the best-selling instrumental album of all-time, with this packed, Live Tour Double Disc release. Experience the iconic music of Tubular Bells like never before, performed in a new cinematic style alongside live musicians and world-class performers, featuring BAFTA nominated, Samuel West, as MC. Also featured is a fascinating 90 minute behind-the-scenes documentary, narrated by BAFTA winner, Bill Nighy.
DISC 1 - FULL LIVE SHOW
Filmed over three nights at the world-famous Royal Festival Hall, this contemporary masterpiece incorporates the beauty of the original music with dance and acrobatic feats by the Circa Contemporary Circus. Includes stunning performances of Moonlight Shadow, Mike Oldfield's biggest single hit, along with Summit Day, from his Guitars album, and The Gem, a new work by Musical Director Robin Smith.

DISC 2 - TOUR DOCUMENTARY
The feature-length documentary explores the history and legacy of Tubular Bells, and closely follows the dramatic story behind the spectacular new production. 
Review
I am sure that the 50th Anniversary Live Concert Experience of Tubular Bells will be spectacular, theatrical, fantastical and thrilling. I'm so excited it is premiering in 2021, marking 50 years from when I started writing the music and will be touring the world through to 2023, the 50th anniversary of the original album release. --Mike Oldfield