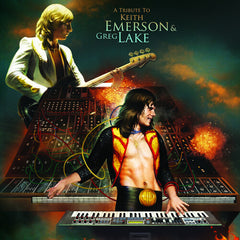 Emerson Lake & Palmer: Tribute To Keith Emerson & Greg Lake Various Artists (Orange Limited Edition LP) 2020 Release Date: 4/10/2020
The pantheon of prog rock all-stars show up to pay their respects to two dearly departed figures who revolutionzed modern rock keyboardist Keith Emerson & singer/songwriter/bassist Greg Lake!
Features all-new performances by an incredible cast of musicians including Todd Rundgren Larry Fast (Peter Gabriel) Martin Turner (Wishbone Ash) Sonja Kristina (Curved Air) Geoff Downes (Yes/Asia) Derek Sherinian (Dream Theatre) and Arthur Brown plus a very special performance from Emerson's son Aaron & grandson Ethan! Will be available on both CD and limited edition ORANGE vinyl!
1

 21st Century Schizoid Man Feat. Todd Rundgren & Brian Auger

2

 A Time and a Place Feat. Leslie Hunt & Derek Sherinian

3

 The Sheriff Feat. Billy Sherwood & David Sancious

4

 C'est la Vie Feat. Jon Davison & Larry Fast

5

 From the Beginning Feat. Thijs Van Leer & John Wesley

6

 Hoedown Feat. Patrick Moraz

7

 Still... Youturn Me on Feat. Sonja Kristina & Steve Porcaro

8

 Lucky Man Feat. Martin Turner & Geoff Downes

9

 Fanfare for the Common Man Feat. Aaron & Ethan Emerson

10

 Karn Evil #9 1st Impression Part 2 Feat. Arthur Brown & Jordan Rudess