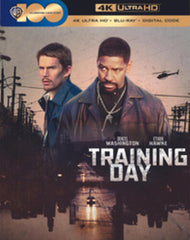 Training Day 2001 (4K Ultra HD+Blu-ray+Digital Copy) 4K Ultra HD Rated: R 2023 Release Date: 2/28/2023
Young L.A. cop Jake Hoyt (Ethan Hawke), newly transferred to undercover narcotics duty, is partnered with top veteran detective Alonzo Harris (Denzel Washington). But as his first day on the new beat progresses, and Hoyt witnesses the maverick Harris' behavior increasingly cross the line, he must choose between loyalty and duty.
Director Antoine Fuqua's intense urban drama, which earned a Best Actor Academy Award for Washington, also stars Scott Glenn, Tom Berenger, Snoop Dogg. 122 min. Widescreen; Soundtrack: English. Two-disc set.
STARRING: Denzel Washington, Ethan Hawke, Scott Glenn, Tom Berenger, Harris Yulin, Raymond J. Barry, Cliff Curtis, Dr. Dre, Snoop Dogg, Macy Gray

UPC: 883929793778

DIRECTOR: Antoine Fuqua

RATED: R

GENRE: Action / Adventure
THEME: Academy Award Winner, Crime

RELEASE DATE: 2/28/2023

PRODUCT ID: WHV1000815598UHD

ORIGINAL LANGUAGE: ENG

ORIGINAL YEAR: 2001

DISTRIBUTOR/STUDIO: Warner Home Video

NUMBER OF DISCS: 2

WEIGHT: .44 lb