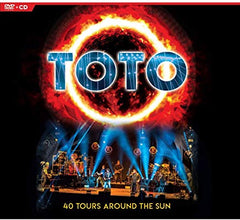 TOTO: 40 Tours Around The Sun Live Amsterdam 2018 [Import] United Kingdom (CD/DVD) DTS 5.1 Audio 2019 Release Date 3/29/19 Order Now
This live performance was filmed in front of a sold-out crowd exceeding 18, 000 fans on March 17, 2018 at the Ziggo Dome in Amsterdam. TOTO performed a wide range of songs, including hit singles, rarely performed live deep cuts, and two recently recorded tracks which appeared on their new Greatest Hits album (40 Trips Around The Sun).
Also included is the "40 Tours Featurette, " a brand new interview with band members: Steve Lukather, David Paich, Steve Porcaro and Joseph Williams.
ARTIST: Toto
LABEL: Eagle Rock Int'l

UPC: 5051300210724

GENRE: Rock

RELEASE DATE: 3/29/2019

PRODUCT ID: EGRI0210724.2

LAST RETURN DATE: 3/29/2019

THIS PRODUCT IS NON-RETURNABLE

THIS IS AN IMPORT PRODUCT

WEIGHT: .6 lb