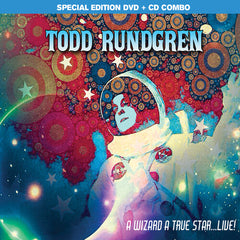 Todd Rundgren: A Wizard, A True Star...Live! (DVD+CD) 2009 Release Date: 9/25/2020
Rock Hall Of Fame nominee and revered musician/producer/songwriter performs a very special live concert featuring the entirety of his classic 1973 album A Wizard A True Star!
Recorded 2009 in Akron OH, this special multi-media package has never been made available publically in this format with both crystal clear DVD as well as audio CD! Packaged in a slick six-panel digipak with 2 trays!
Starring: Todd Rundgren
UPC: 889466189791
Rated: NR
Release Date: 9/25/2020
Product ID: PRLE1897DVD
Distributor/Studio: Purple Pyramid
Number of Discs: 2
Region: 0
Weight: .37 lb