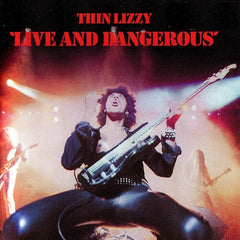 Thin Lizzy: Live And Dangerous 1978 (180 Gram Vinyl Clear Vinyl Red Audiophile Limited Edition 2LP) Half Speed Mastered 2022 Release Date: 4/22/2022
Description
Live and Dangerous ranks as one of the greatest live albums of all time. Friday Music delivers the definitive version with this 2LP, deluxe, 180g 1/2-speed master. Phil Lynott and Co.'s greatest songs are given the five-star treatment!
This 1/2-speed mastered deluxe double LP reissue includes some of Thin Lizzy's best songs including "The Boys Are Back In Town", "The Rocker" and "Jailbreak". The reissue features original art elements, graphics, deluxe gatefold cover, half-speed mastered from the original Warner vault tapes at Friday Music Studios by Joe Reagoso and at Capitol Records with Ron McMaster.
180g Audiophile Translucent Red Vinyl!
Live And Dangerous Translucent Red Audiophile Thin Lizzy
- Disc 1 -

1

 Jailbreak

2

 Emerald

3

 Southbound

4

 Rosalie / Cowgirl's Song

- Disc 2 -

1

 Dancing in the Moonlight (It's Caught Me in It's Spotlight)

2

 Massacre

3

 Still in Love with You

4

 Johnny the Fox Meets Jimmy the Weed

- Disc 3 -

1

 Cowboy Song

2

 The Boys Are Back in Town

3

 Don't Believe a Word

4

 Warrior

5

 Are You Ready

- Disc 4 -

1

 Suicide

2

 Sha la la

3

 Baby Drives Me
Label: Friday Music

Number of Discs: 2

UPC: 829421321309

Genre: Rock

Release Date: 4/22/2022

Product ID: FRIM3213.1

Last Return Date: 4/22/2022

This product is non-returnable

Weight: 1.14 lbs