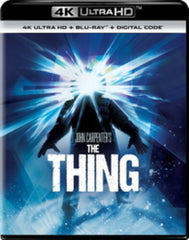 The Thing 1982 (4K Ultra HD+Blu-ray+ Digital Copy) 4K Ultra HD Rated: R 2021 Release Date: 9/7/2021
John Carpenter's harrowing remake of the '50s classic centers on a snowbound research team in Antarctica that encounters a vicious, shape-shifting alien organism. Cut off from the rest of the world, paranoia and mistrust begin to set in as the men realize any one of them could be the creature.
Features state-of-the-art (for their time) makeup effects and a haunting score from Ennio Morricone. Kurt Russell, Keith David, Donald Moffat, Richard Dysart, and Wilford Brimley star. 109 min. Widescreen; Soundtracks: English DTS X Immersive Audio, DTS HD 5.1 Master Audio, French DTS 5.1, Spanish DTS Digital Surround stereo; Subtitles: English (SDH), French, Spanish; audio commentary; outtakes; featurette; theatrical trailer. Two-disc set.
STARRING: Kurt Russell, Wilford Brimley, T.K. Carter, David Clennon, Keith David, Richard Dysart, Charles Hallahan, Peter Maloney, Richard Masur, Donald Moffat

UPC: 191329106914

DIRECTOR: John Carpenter

RATED: R

GENRE: Science Fiction, Horror

RELEASE DATE: 9/7/2021

PRODUCT ID: MHV1961207010UHD

ORIGINAL LANGUAGE: ENG

ORIGINAL YEAR: 1982

RUN TIME: 109 minutes

DISTRIBUTOR/STUDIO: Universal Studios

NUMBER OF DISCS: 2

WEIGHT: .22 lb