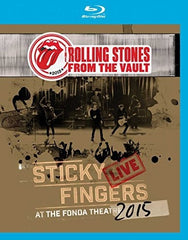 The Rolling Stones From the Vault: Sticky Fingers Live Fonda Theatre Hollywood 2015 Import (Blu-ray) DTS-HD Master Audio 09-29-17

Import Blu-Ray/Region All pressing. This latest addition to the From The Vault series captures a truly unique event in the long and eventful history of The Rolling Stones.
On the 20th May 2015 at the Fonda Theatre in Hollywood, California, the band performed the entire Sticky Fingers album live in concert for the first and so far only time in their career. The show celebrated the reissue of the Sticky Fingers album and was the opening night of The Rolling Stones Zip Code Tour of North America that would run over the next two months. The intimate setting of the Fonda Theatre was in contrast to the huge stadiums in which the band would perform for the rest of the tour and made this an incredibly special occasion for those fans lucky enough to get a ticket. The DVD & Blu-ray include interviews with the band members intercut with full length performances.
UPC: 5051300533571

GENRE: Rock

RELEASE DATE: 9/29/2017

PRODUCT ID: EAGV0053357BR

THIS IS AN IMPORT PRODUCT

DISTRIBUTOR/STUDIO: Eaglevision Europe

VIDEO FORMAT: NTSC

REGION: 0

WEIGHT: .2 lb