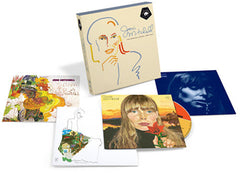 Joni Mitchell: The Reprise Albums (1968-1971) Boxed Set 4 CD) 2021 Release Date: 7/2/2021
THE REPRISE YEARS (1968-1971) features newly remastered versions of Joni Mitchell's first four studio albums - Song To A Seagull (1968), Clouds (1969), Ladies Of The Canyon (1970), and Blue (1971). In the case of Song To A Seagull, the original mix has been recently updated by Mitchell and mixer Matt Lee. 
The cover art for THE REPRISE YEARS (1968-1971) features a previously unseen self-portrait Mitchell drew during the time period and includes an essay by Grammy winning singer-songwriter Brandi Carlile.
FEATURES:
Includes the Definitive Albums
SONG TO A SEAGULL (1968)
CLOUDS (1969)
LADIES OF THE CANYON (1970)
BLUE (1971)
Remastered by Bernie Grundman

Cover Art by Joni Mitchell

Essay by Brandi Carlile
INCLUDING:
Debuting a New Mix for . . . . .
SONG TO A SEAGULL
- Disc 1 -

1

 I Had a King (2021 Remaster)

2

 Michael from Mountains (2021 Remaster)

3

 Night in the City (2021 Remaster)

4

 Marcie (2021 Remaster)

5

 Nathan la Franeer (2021 Remaster)

6

 Sisotowbell Lane (2021 Remaster)

7

 The Dawntreader (2021 Remaster)

8

 The Pirate of Penance (2021 Remaster)

9

 Song to a Seagull (2021 Remaster)

10

 Cactus Tree (2021 Remaster)

- Disc 2 -

1

 Tin Angel (2021 Remaster)

2

 Chelsea Morning (2021 Remaster)

3

 I Don't Know Where I Stand (2021 Remaster)

4

 That Song About the Midway (2021 Remaster)

5

 Roses Blue (2021 Remaster)

6

 The Gallery (2021 Remaster)

7

 I Think I Understand (2021 Remaster)

8

 Songs to Aging Children Come (2021 Remaster)

9

 The Fiddle and the Drum (2021 Remaster)

10

 Both Sides, Now (2021 Remaster)

- Disc 3 -

1

 Morning Morgantown (2021 Remaster)

2

 For Free (2021 Remaster)

3

 Conversation (2021 Remaster)

4

 Ladies of the Canyon (2021 Remaster)

5

 Willy (2021 Remaster)

6

 The Arrangement (2021 Remaster)

7

 Rainy Night House (2021 Remaster)

8

 The Priest (2021 Remaster)

9

 Blue Boy (2021 Remaster)

10

 Big Yellow Taxi (2021 Remaster)

11

 Woodstock (2021 Remaster)

12

 The Circle Game (2021 Remaster)

- Disc 4 -

1

 All I Want (2021 Remaster)

2

 My Old Man (2021 Remaster)

3

 Little Green (2021 Remaster)

4

 Carey (2021 Remaster)

5

 Blue (2021 Remaster)

6

 California (2021 Remaster)

7

 This Flight Tonight (2021 Remaster)

8

 River (2021 Remaster)

9

 A Case of You (2021 Remaster)

10

 The Last Time I Saw Richard (2021 Remaster)