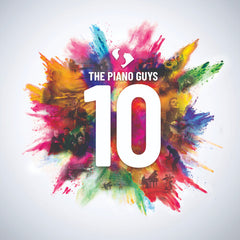 The Piano Guys: 10 (2CD/DVD) The Piano Guys 2020 Release Date: 11/20/2020
Deluxe two CD + DVD edition. 2020 collection. Having spent the last decade together releasing chart-topping music, debuting stunningly original music videos and touring in sold-out venues across the globe, The Piano Guys celebrate their tenth anniversary as a group with the release of this album.
This release reflects on The Piano Guys' greatest career moments thus far with 15 newly-remastered fan favorite tracks from the past decade as well as introduces their next chapter with 12 brand new tracks.
10.- 
BLESS THE BROKEN ROAD
11.- 
BETTER DAYS (BONUS TRACKS)
12.- 
MORE THAN A FEELING / LONG TIME (BONUS TRACKS)
D2 
01.- 
A SKY FULL OF STARS
D2 
02.- 
BEETHOVEN'S 5 SECRETS
D2 
03.- 
TITANIUM / PAVANE
D2 
06.- 
KUNG FU PIANO: CELLO ASCENDS
D2 
09.- 
REWRITE THE STARS
D2 
12.- 
OVER THE RAINBOW / SIMPLE GIFTS
D2 
13.- 
WHAT MAKES YOU BEAUTIFUL
D2 
15.- 
FIGHT SONG / AMAZING GRACE
D3 
01.- 
A SKY FULL OF STARS (dvd)
D3 
02.- 
BEETHOVEN'S 5 SECRETS (dvd)
D3 
03.- 
TITANIUM / PAVANE (dvd)
D3 
05.- 
THE CELLO SONG (dvd)
D3 
06.- 
KUNG FU PIANO: CELLO ASCENDS (dvd)
D3 
07.- 
BEGIN AGAIN / BACH CANTATA (dvd)
D3 
08.- 
A MILLION DREAMS (dvd)
D3 
09.- 
REWRITE THE STARS (dvd)
D3 
11.- 
A THOUSAND YEARS (dvd)
D3 
12.- 
OVER THE RAINBOW / SIMPLE GIFTS (dvd)
D3 
13.- 
WHAT MAKES YOU BEAUTIFUL (dvd)
D3 
14.- 
STORY OF MY LIFE (dvd)
D3 
15.- 
FIGHT SONG / AMAZING GRACE (dvd)
LABEL: Masterworks

NUMBER OF DISCS: 3

UPC: 194398191225

GENRE: Classical Artists

RELEASE DATE: 11/20/2020

PRODUCT ID: MSWK981912.2

WEIGHT: .24 lb