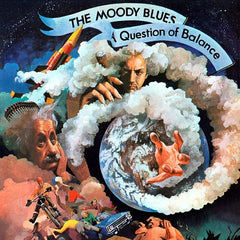 The Moody Blues: A Question of Balance 1970 (180 Gram Vinyl Audiophile Limited Edition Gatefold LP Jacket) 2022 Release Date: 7/29/2022
Vinyl LP pressing. A Question of Balance is the sixth album by The Moody Blues, released in 1970. The album was an attempt by the group to strip down their well-known lush, psychedelic sound in order to be able to better perform the songs in concert. Released in 1970, the album reached #1 in the United Kingdom and #3 in the United States. 
The Moody Blues formed in Birmingham in 1964. They first came to prominence playing rhythm and blues music, but their second album, Days of Future Passed, which was released in 1967, was a fusion of rock with classical music and established the band as pioneers in the development of art rock and progressive rock. 
- Disc 1 -

1

 Question 5:40

2

 How Is It (We Are Here) 2:48

3

 And the Tide Rushes in 2:57

4

 Don't You Feel Small 2:40

5

 Tortoise and the Hare 3:23

- Disc 2 -

1

 It's Up to You 3:11

2

 Minstrel's Song 4:27

3

 Dawning Is the Day 4:22

4

 Melancholy Man 5:49

5

 The Balance 3:33
LABEL: Friday Music

UPC: 829421030003

GENRE: Rock

RELEASE DATE: 7/29/2022

PRODUCT ID: FRIM3.1

WEIGHT: .82 lb