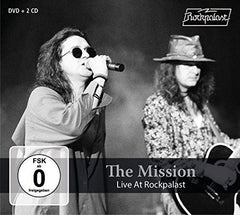 The Mission UK: Live At Rockpalast (CD+DVD) 1990 Release Date: 5/4/2018
Without a doubt, The Mission had it's first zenith in 1989/90 when the band entered the premier league of rock with the album "Carved In Sand". With "Butterfly On A Wheel" the band landed one of their biggest hits and live they were steadily turning into a celebrated stadium rock act.
The Mission established primarily as a live act, making both Rockpalast concerts essential viewing for a fan.