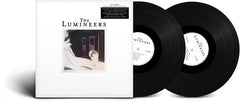 The Lumineers -10th Anniversary Edition 2012 (Double 180gm Vinyl LP Pressing) 2023 Release Date: 2/3/2023
Double 180gm vinyl LP pressing. Digitally remastered and expanded edition featuring 6 tracks previously unreleased on vinyl, new liner notes, and all-new packaging with exclusive behind the scenes photos. 
The Lumineers' breakout debut album captured hearts of fans and critics worldwide in 2012, leading to two Grammy-award nominations and a #2 Billboard chart peak. It features the hit singles "Ho Hey" "Stubborn Love" and "Submarines." 
1

 Flowers in Your Hair

2

 Classy Girls

3

 Submarines

4

 Dead Sea

5

 Ho Hey

6

 Slow It Down

7

 Stubborn Love

8

 Big Parade

9

 Charlie Boy

10

 Flapper Girl

11

 Morning Song

12

 Ain't Nobody's Problem

13

 This Must Be the Place (Naïve Melody)

14

 Elouise

15

 Darlene

16

 Slow It Down (Live)

17

 Scotland