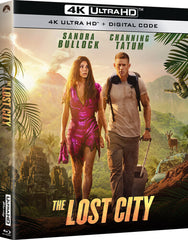 The Lost City (4K Ultra HD+Blu-ray+Digital Copy), Dolby, AC-3 Rated: PG13 2022 Release Date: 7/26/2022
Brilliant, but reclusive romance novelist Loretta Sage, best known for her adventure stories featuring handsome cover model Alan, is kidnapped by an eccentric billionaire looking for the ancient lost city from her latest novel. 
Wanting to prove that he can be a hero in real life, Alan sets off to rescue her. Thrust into an epic jungle adventure, the unlikely pair will need to work together to survive the elements and find the city's legendary treasure before it's lost forever.
STARRING: Sandra Bullock, Channing Tatum, Daniel Radcliffe, Brad Pitt, Oscar Nuñez, Patti Harrison, Stephen Lang, Joan Pringle

UPC: 191329219225

RATED: PG13

GENRE: Comedy Video, Action / Adventure

RELEASE DATE: 7/26/2022

PRODUCT ID: PRT1000812834UHD

SUBTITLES: ENG, FRE, SPA

DUBBED: FRE, SPA

ORIGINAL LANGUAGE: ENG

ORIGINAL YEAR: 2022

DISTRIBUTOR/STUDIO: Paramount

WEIGHT: .22 lb