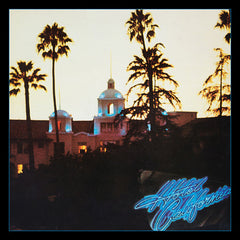 The Eagles: Hotel California 40th Anniversary Live At The L.A. Forum 1976 Expanded Edition (Anniversary Edition Expanded 2 CD Version) 2017 Release Date 11/24/17 ALSO SACD FORMAT
Two CD pressing. Disc One contains the digitally remastered edition of the classic 1976 album Hotel California. Disc Two contains the previously unreleased Live at The Forum Oct 19 - 22, 1976.
Housed in a six-panel softpak. Digitally remastered and expanded 40th Anniversary edition. Hotel California is the fifth studio album by The Eagles, and is one of the best-selling albums of all time. Three singles were released from the album, each reaching high in the Billboard Hot 100: "New Kid in Town" (#1), "Hotel California" (#1), and "Life in the Fast Lane" (#11). The album became the band's best-selling album after Their Greatest Hits (1971-1975), with over 16 million copies sold in the U.S. alone and over 32 million copies sold worldwide.
- Disc 1 -

1

 Hotel California (Remastered)

2

 New Kid in Town (Remastered)

3

 Life in the Fast Lane (Remastered)

4

 Wasted Time (Remastered)

5

 Wasted Time (Reprise) [Remastered]

6

 Victim of Love (Remastered)

7

 Pretty Maids All in a Row (Remastered)

8

 Try and Love Again (Remastered)

9

 The Last Resort (Remastered)

- Disc 2 -

1

 Take It Easy (Live at the Los Angeles Forum, 10/20-22/76)

2

 Take It to the Limit (Live at the Los Angeles Forum, 10/20-22/76)

3

 New Kid in Town (Live at the Los Angeles Forum, 10/20-22/76)

4

 James Dean (Live at the Los Angeles Forum, 10/20-22/76)

5

 Good Day in Hell (Live at the Los Angeles Forum, 10/20-22/76)

6

 Witchy Woman (Live at the Los Angeles Forum, 10/20-22/76)

7

 Funk #49 (Live at the Los Angeles Forum, 10/20-22/76)

8

 One of These Nights (Live at the Los Angeles Forum, 10/20-22/76)

9

 Hotel California (Live at the Los Angeles Forum, 10/20-22/76)

10

 Already Gone (Live at the Los Angeles Forum, 10/20-22/76)