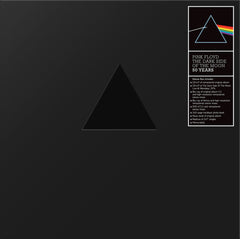 Pink Floyd: The Dark Side Of The Moon-1973 50th Anniversary Box Set Boxed Set 12 Discs Total (2 CD+2 LP+DVD HiRES Audio+2 Blu-ray Audio HiRES Anniversary Edition) 2012 Release Date: 3/24/2023

$299.97 
One of the most iconic and influential albums ever, Pink Floyd's The Dark Side Of The Moon celebrates its 50th Anniversary.
The album was partly developed during live performances, and the band premiered an early version of the suite at London's Rainbow Theatre several months before recording began. 'The Dark Side Of The Moon' is the eighth studio album by Pink Floyd, originally released in March 1973. The new material was recorded in 1972 and 1973 at EMI Studios (now Abbey Road Studios) in London. The iconic sleeve, which depicts a prism spectrum, was designed by Storm Thorgerson of Hipgnosis and drawn by George Hardie. 'The D
The new deluxe box set includes CD and gatefold vinyl of the newly remastered studio album and Blu-Ray + DVD audio featuring the original 5.1 mix and remastered stereo versions. The set also includes additional new Blu-ray disc of Atmos mix plus CD and LP of 'The Dark Side Of The Moon - Live At Wembley Empire Pool, London, 1974'.
BOX SET PRODUCT DETAILS:
CD1 – THE DARK SIDE OF THE MOON
Diginal studio album remastered by James Guthrie in gatefold sleeve with 12-page booklet
CD2 – THE DARK SIDE OF THE MOON
LIVE AT WEMBLEY EMPIRE POOL, LONDON, 1974 - in gatefold sleeve with 12-page booklet with cover design by Aubrey Powell/Hipgnosis and Peter Curzon/StormStudios. Original 1973 line drawn cover artwork by George Hardie
LP1 – THE DARK SIDE OF THE MOON
Remastered original studio album - in gatefold sleeve, with original posters and stickers
LP2 – THE DARK SIDE OF THE MOON
LIVE AT WEMBLEY EMPIRE POOL, LONDON, 1974 - in gatefold, with 2 posters featuring design by Ian Emes and Gerald Scarfe. Cover design by Aubrey Powell/Hipgnosis and Peter Curzon/Storm Studios. Original 1973 line drawn cover artwork by George Hardie
BLU-RAY 1 (AUDIO)
Original album 5.1 and high-resolution remastered stereo mixes,
1. 5.1 Surround Mix – 24bit/96kHz Uncompressed
2. Stereo Mix – 24bit/192kHz Uncompressed
3. 5.1 Surround Mix – dts-HD MA
4. Stereo Mix – dts-HD MA
BLU-RAY 2 (AUDIO)
Original newly remastered album Atmos and high-resolution stereo mixes,
1. Dolby Atmos Mix
2. Stereo Mix – 24-bit/192kHz Uncompressed
3. Stereo Mix – dts-HD MA
DVD (AUDIO)
Original album 5.1 and remastered stereo mixes,
1. 5.1 Surround Mix – Dolby Digital @448 kbps
2. 5.1 Surround Mix – Dolby Digital @640 kbps
3. Stereo Mix (LPCM) – 24-bit/48 kHz Uncompressed
160-PAGE HARDCOVER BOOK
With rare black and white photographs from the 1973 – 1974 tours of the UK and the USA taken by Peter Christopherson, Jill Furmanovsky, Aubrey Powell, Storm Thorgerson
76-PAGE MUSIC BOOK
Complete songbook of original album
REPLICAS OF 2×7" SINGLES
7" Single 1: Money b/w Any Colour You Like

7" Single 2: Us And Them b/w Time
REPLICA OF PAMPHLET AND INVITATION TO THE PREVIEW OF THE DARK SIDE OF THE MOON AT THE LONDON PLANETARIUM ON 27TH FEBRUARY 1973
- Disc 1 -

1

 * [LP1] the Dark Side of the Moon - Remastered 2023 By James Guthrie (Title, Not a Track)

2

 Speak to Me

3

 Breathe (In the Air)

4

 On the Run

5

 Time

6

 The Great Gig in the Sky

- Disc 2 -

1

 Money

2

 Us and Them

3

 Any Colour You Like

4

 Brain Damage

5

 Eclipse

- Disc 3 -

1

 * [LP2] the Dark Side of the Moon Live at Wembley Empire Pool, London, 1974 (Title, Not a Track)

2

 Speak to Me

3

 Breathe (In the Air)

4

 On the Run

5

 Time

6

 The Great Gig in the Sky

- Disc 4 -

1

 Money

2

 Us and Them

3

 Any Colour You Like

4

 Brain Damage

5

 Eclipse

- Disc 5 -

1

 * [CD1] the Dark Side of the Moon - Remastered 2023 By James Guthrie (Title, Not a Track)

2

 Speak to Me

3

 Breathe (In the Air)

4

 On the Run

5

 Time

6

 The Great Gig in the Sky

7

 Money

8

 Us and Them

9

 Any Colour You Like

10

 Brain Damage

11

 Eclipse

- Disc 6 -

1

 * [CD2] the Dark Side of the Moon Live at Wembley Empire Pool, London, 1974 - Mixed By Andy Jackson (Title, Not a Track)

2

 Speak to Me

3

 Breathe (In the Air)

4

 On the Run

5

 Time

6

 The Great Gig in the Sky

7

 Money

8

 Us and Them

9

 Any Colour You Like

10

 Brain Damage

11

 Eclipse

- Disc 7 -

1

 * [Blu-ray 1] Audio (Not a Track)

2

 Speak to Me

3

 Breathe (In the Air)

4

 On the Run

5

 Time

6

 The Great Gig in the Sky

7

 Money

8

 Us and Them

9

 Any Colour You Like

10

 Brain Damage

11

 Eclipse

- Disc 8 -

1

 * [Blu-ray 2] Audio (Not a Track)

2

 Speak to Me

3

 Breathe (In the Air)

4

 On the Run

5

 Time

6

 The Great Gig in the Sky

7

 Money

8

 Us and Them

9

 Any Colour You Like

10

 Brain Damage

11

 Eclipse

- Disc 9 -

1

 * [DVD] Audio

2

 Speak to Me

3

 Breathe (In the Air)

4

 On the Run

5

 Time

6

 The Great Gig in the Sky

7

 Money

8

 Us and Them

9

 Any Colour You Like

10

 Brain Damage

11

 Eclipse

- Disc 10 -

1

 *[7Inch Single Vinyl] (Not a Track)

2

 A1. Money

3

 B1. Any Colour You Like

- Disc 11 -

1

 * [7Inch Single Vinyl] (Not a Track)

2

 A1. Us and Them

3

 B1. Time
LABEL: Pink Floyd Records

NUMBER OF DISCS: 12

UPC: 196587134518

GENRE: Rock

RELEASE DATE: 3/24/2023

PRODUCT ID: PKFL871345.1

WEIGHT: 2.38 lbs