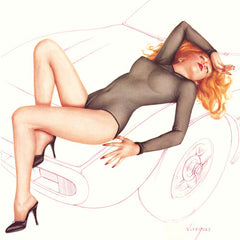 The Cars: Candy-O 1979 (Clear Vinyl 140 Gram Vinyl LP) 2022 Release Date: 10/7/2022
Digitally remastered and expanded edition of this classic album from the new wave/rock quintet. Released on June 13, 1979, Candy-O is The Cars' second album. The band recorded again with Queen producer Roy Thomas Baker (he also produced The Cars' first album). It hit #3 on the U.S. Billboard album chart and the first single, "Let's Go", took The Cars into the top 15 on the Billboard hot 100 singles chart for the first time. 
Candy-O is an RIAA certified 4X platinum album in the U.S. alone. This expanded edition includes previously unreleased monitor mixes, the unreleased track "They Won't See You" and more.  
1

 Let's Go (Remastered)

2

 Since I Held You (Remastered)

3

 It's All I Can Do (Remastered)

4

 Double Life (Remastered)

5

 Shoo Be Doo (Remastered)

6

 Candy-O (Remastered)

7

 Night Spots (Remastered)

8

 You Can't Hold on Too Long (Remastered)

9

 Lust for Kicks (Remastered)

10

 Got a Lot on My Head (Remastered)

11

 Dangerous Type (Remastered)

12

 Let's Go (Monitor Mix)

13

 Candy-O (Northern Studios Version)

14

 Night Spots (Northern Studios Version)

15

 Lust for Kicks (Monitor Mix)

16

 Dangerous Type (Northern Studios Version)

17

 They Won't See You (Northern Studios Version)

18

 That's It (B-Side of "Let's Go")
LABEL: Elektra / WEA

UPC: 603497842551

GENRE: Rock

RELEASE DATE: 10/7/2022

PRODUCT ID: EA3147.1

WEIGHT: .6 lb