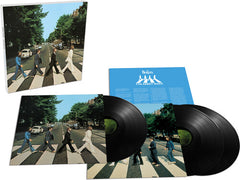 The Beatles: Abbey Road Anniversary (3 LP 180 Gram Vinyl Deluxe Edition) 40 Tracks 2019 Release Date 9/27/19
Deluxe triple 180gm vinyl LP pressing containing 40 tracks. The album's  new stereo mix LP is packaged in a faithfully replicated sleeve, with the two Sessions LPs paired in their own jacket, presented with a four-page insert in a lift-top box. 
Digitally remixed 50th Anniversary edition of The Beatles' musical masterpiece. This Abbey Road release features the new stereo album mix, sourced directly from the original eight-track session tapes. To produce the mix, Giles Martin working with Sam Okell, was guided by the album's original stereo mix supervised by his father, George Martin. It is time to experience Abbey Road again! 
- Disc 1 -

1

 Come Together

2

 Something

3

 Maxwell's Silver Hammer

4

 Oh! Darling

5

 Octopus's Garden

6

 I Want You (She's So Heavy)

- Disc 2 -

1

 Here Comes the Sun

2

 Because

3

 You Never Give Me Your Money

4

 Sun King

5

 Mean Mr Mustard

6

 Polythene Pam

7

 She Came in Through the Bathroom Window

8

 Golden Slumbers

9

 Carry That Weight

10

 The End

11

 Her Majesty

- Disc 3 -

1

 I Want You (She's So Heavy) (Trident Recording Session and Reduction Mix)

2

 Goodbye (Home Demo)

3

 Something (Studio Demo)

4

 The Ballad of John and Yoko (Take 7)

5

 Old Brown Shoe (Take 2)

- Disc 4 -

1

 Oh! Darling (Take 4)

2

 Octopus's Garden (Take 9)

3

 You Never Give Me Your Money (Take 36)

4

 Her Majesty (Takes 1-3)
ALL PRODUCTS: The Beatles
LABEL: Capitol

UPC: 602508007446

GENRE: Rock

RELEASE DATE: 9/27/2019

PRODUCT ID: CAP800744.1

LAST RETURN DATE: 9/27/2019

THIS PRODUCT IS NON-RETURNABLE

WEIGHT: 3.23 lbs