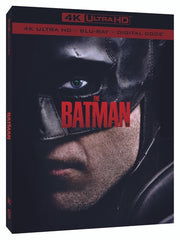 The Batman (4K Ultra HD+Blu-ray+Digital Copy) 4K Ultra HD Rated: PG13 2022 Release Date: 5/24/2022
Matt Reeves' norIish, epic reimagining for the Dark Knight finds traumatized billionaire Bruce Wayne (Robert Pattinson) early in his second life of costumed vigilantism, and faced with the serial slayings of ranking Gotham City officials by the mysterious Riddler (Paul Dano).
The Batman's forced to run a treacherous maze of civic corruption and mob warfare to unmask the sociopath and stop his endgame of destruction. With Jeffrey Wright, Andy Serkis, John Turturro, Zoe Kravitz, and Colin Farrell. 176 min. Widescreen; Soundtrack: English.