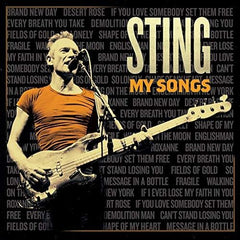 Sting My Songs (Deluxe Edition) 17 Hit Tracks CD Release Date 5/24/19
Deluxe edition includes four bonus tracks. 2019 release. My Songs is an album comprised of the 17-time Grammy Award winner's most celebrated hits from his unparalleled career, each reshaped and reimagined for 2019.
My Songs boasts modernized recordings, faithful to the original arrangements and celebrates Sting's illustrious musical career as one of the world's most distinctive and influential artists. Since forming The Police in 1977 with Stewart Copeland and Andy Summers, Sting has evolved into one of the world's most iconic artists, selling 100 million records and earning the highest accolades along the way. Fans can expect to hear Sting's own fresh approach to hits including "Englishman In New York," "Fields Of Gold," "Shape Of My Heart," "Every Breath You Take," "Roxanne," "Message In A Bottle" and many more.
1

 Brand New Day - 3:58

2

 Desert Rose - 3:57

3

 If You Love Somebody Set Them Free - 4:35

4

 Every Breath You Take - 4:16

5

 Demolition Man - 4:18

6

 Can't Stand Losing You - 2:49

7

 Fields of Gold - 3:47

8

 So Lonely - 4:09

9

 Shape of My Heart - 4:43

10

 Message in a Bottle - 4:46

11

 Fragile - 3:53

12

 Walking on the Moon - 4:16

13

 Englishman in New York - 4:28

14

 If I Ever Lose My Faith in You - 4:09

15

 Roxanne - 3:06

16

 Synchronicity II - 5:00

17

 Next to You - 4:19

18

 Spirits in the Material World - 3:57

19

 Fragile - 4:00