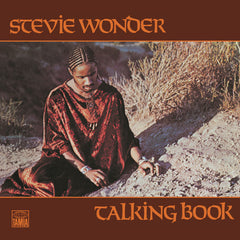 Stevie Wonder: Talking Book 1972 LP 2016 Release Date: 12/2/2016
Limited vinyl LP repressing featuring Braille inscriptions originally available only on the album's rare first pressing. This reissue is newly remastered from original analog. Talking Book is the fifteenth album by Stevie Wonder, originally released in 1972. "You Are the Sunshine of My Life", hit #1 on Billboard's Hot 100 and earned Stevie his first Grammy Award. 
The album's first single, "Superstition", also hit #1 on Billboard's Hot 100 and Hot Soul Singles charts. Sandwiched between the release of Music of My Mind and Innervisions, Talking Book saw Wonder enjoying more artistic freedom from Motown. Guest appearances include Jeff Beck, Ray Parker, Jr., David Sanborn, and Buzz Feiten. The sound of the album is sharply defined by Wonder's keyboard work, especially with the synthesizers he incorporated, giving a funky edge to tracks like "Maybe Your Baby". His use of the Hohner clavinet model C on "Superstition" is widely regarded as one of the definitive tracks featuring the instrument. 
- Disc 1 -

1

 You Are the Sunshine of My Life

2

 Maybe Your Baby

3

 You and I (We Can Conquer the World)

4

 Tuesday Heartbreak

5

 You've Got It Bad Girl

- Disc 2 -

1

 Superstition

2

 Big Brother

3

 Blame It on the Sun

4

 Lookin' for Another Pure Love

5

 I Believe (When I Fall in Love It Will Be Forever)