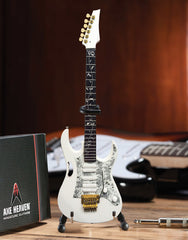 Steve Vai Signature White JEM Mini Guitar Replica Collectible (Large Item, Collectible)
NO FURTHER DISCOUNTS APPLY-NO AUTO DISCOUNT
Overview
Steve Vai Signature White JEM Mini Guitar Replica Collectible.
This collectible miniature guitar replica was hand-crafted in honor of the legendary guitarist Steve Vai.
This signature "White JEM" model was used for many performances by Steve.
It captures the detailed 'Tree of Life' artwork on the fretboard & is simply a beautiful piece.
Features
Brand: Axe Heaven

Size: Each guitar model is approximately 10" in length.

Each AXE HEAVEN® ornamental replica guitar is 1:4 scale and is individually handcrafted from solid wood, with metal tuning keys.

Includes a high-quality miniature adjustable A-frame guitar stand for display.

Packed in an AXE HEAVEN® guitar case gift box stamped with silver foil.

All mini guitars are packed in the same style box measuring 11.75" W x 4.5" D x 1.25" H

AXE HEAVEN® Miniature Replica guitars look great but are Not playable.

These ornamental miniature replica guitar collectibles make great gifts for musicians & music aficionados alike!

A must for Steve Vai fans & collectors.

Weight: approximately 14 oz.

Officially licensed

Product materials are sourced from Brazil & Indonesia then assembled & packaged in the USA.

Brand: Axe Heaven
All Products: Steve Vai
UPC:

661239449154

Product ID:

AXEH49154

Weight: .39 lb

Available Date: 4/1/2019

Model Number: SV-130