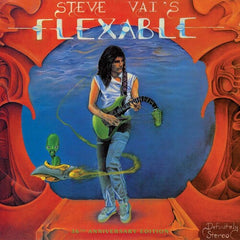 Steve Vai: Flex-able: 36th Anniversary (Clear Vinyl, Anniversary Edition) (LP) 1984 Release Date: 5/20/2022
Description
180g Vinyl LP!
Remastered by Bernie Grundman From The Original Master Tapes!
Coming fresh off his 3 year residency as lead guitarist in Frank Zappa's band, Steve Vai spent the majority of 1983 in the studio. These recordings resulted in the 1984 release of Flex-Able which introduced Vai to the world as a solo artist. The standout instrumental track, "The Attitude Song", was featured in the October 1984 issue of Guitar Player magazine as the first sound sheet Flexi Disc and quickly established Vai as a bonafide and powerful innovator of guitar pyrotechnics. Flex-Able has served as an integral part of Vai's career that paved the way for him to join Alcatrazz, David Lee Roth's band, Whitesnake, and to create his follow up, platinum tour-de-force, second album Passion & Warfare.
No expense or process was spared in the refurbishing and re-release packaging for Flex Able. It was remastered in 2020 by Bernie Grundman using the original 1/4" analog master tapes.
FEATURES:
36th Anniversary Edition

180g Vinyl

Black Vinyl

Remastered in 2020 by Bernie Grundman using original 1/4" analog master tapes
STEVE VAI - FLEX-ABLE: 36TH ANNIVERSARY
1

 Little Green Men

2

 Viv Woman

3

 Lovers Are Crazy

4

 Salamanders in the Sun

5

 The Boy/Girl Song

6

 The Attitude Song

7

 Call It Sleep

8

 Junkie

9

 Bill's Private Parts

10

 Next Stop Earth

11

 There's Something Dead in Here
Label: Light Without Heat

UPC: 647697656839

Genre: Rock

Release Date: 5/20/2022

Product ID: LWOH10121.1

Last Return Date: 5/20/2022

This product is non-returnable

Weight: 1.02 lbs