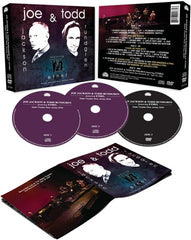 Joe Jackson & Todd Rundgren: State Theater New Jersey 2005 (2CD/DVD) 2021 Release Date: 6/18/2021
Two of the most masterful song crafters of sophisticated art rock unite on stage on this extravagant multi-media concert presentation! Includes a special guest performance by NY-based string quartet Ethel! 
Features the biggest hits from these two legends including "Steppin' Out," "Hello, It's Me," "Is She Really Goin' Out With Him," "Bang The Drum All Day," "It's Different For Girls," "I Don't Want To Tie You Down" and more!
This gorgeous 8-panel digipak includes 2 audio discs and a DVD!
- Disc 1 -

1

 *Ethel

2

 Nepomuk's Dances: Memory

3

 Alap

4

 Pelimanni's Revenge

5

 Sweet Hardwood: Spiritual

6

 Sweet Hardwood: Shuffle

7

 *Joe Jackson

8

 Hometown

9

 Steppin' Out

10

 Awkward Age

11

 Take It Like a Man

12

 It's Different for Girls

13

 Obvious Song

14

 Love at First Light

15

 Girl

16

 Be My Number Two

17

 Citizen Sane

18

 Is She Really Going Out with Him
- Disc 2 -

1

 Todd Rundgren

2

 Love of the Common Man

3

 I Don't Want to Tie You Down

4

 Lysistrada

5

 Tiny Demons

6

 Compassion

7

 Free, Male and 21

8

 Hello, It's Me

9

 Bang the Drum All Day 

10

 Black and White

11

 Afterlife

12

 The Wheel

13

 *Encore

14

 Joe Jackson & Ethel - the Other Me

15

 Todd Rundgren & Ethel - Pretending to Care

16

 Todd Rundgren, Joe Jackson & Ethel - While My Guitar Gently Weeps

17

 Todd Rundgren, Joe Jackson & Ethel - Black Maria
- Disc 3 -

1

 DVD - Full Concert