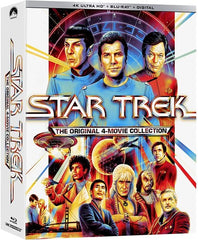 Star Trek: The Original 4-Movie Collection (4K Ultra HD+Blu-ray+Digital) Box Set Collector's Edition 8 Disc Widescreen 2022 Release Date: 2/8/2022
The first four STAR TREK original motion picture adventures boldly voyage to 4K UHD in one collection. Starring the original series cast, including William Shatner, Leonard Nimoy, DeForest Kelley, George Takei, Nichelle Nichols, Walter Koenig, and James Doohan, all four have been remastered in HDR for optimum picture quality from their original film elements.  
The human adventure is just the beginning when Captain James T. Kirk returns to the hem of a newly transformed U.S.S. Enterprise in STAR TREK: THE MOTION PICTURE. In STAR TREK II: THE WRATH OF KHAN, an adversary from Kirk's past returns with a vengeance. The crew is forced to defy Starfleet regulations in STAR TREK III: THE SEARCH FOR SPOCK. And in STAR TREK IV: THE VOYAGE HOME, an unforgettable time-travel adventure places Earth on the brink of disaster. Featuring hours of special features, this highly anticipated collection is an essential for original fans of the franchise, and beyond!
Starring: William Shatner, Leonard Nimoy, DeForest Kelley, James Doohan, George Takei, Walter Koenig, Nichelle Nichols, Kirstie Alley, Ricardo Montalban, Christopher Lloyd

UPC: 191329214978

Directors: Nicholas Meyer, Robert Wise, Leonard Nimoy

Rated: PG

Genre: Science Fiction
Theme: Star Trek

Release Date: 2/8/2022

Product ID: PRT1000810302UHD

Subtitles: ENG, FRE

Dubbed: FRE

Original Language: ENG

Run Time: 523 minutes

Distributor/Studio: Paramount

Number of Discs: 8

Weight: 1.76 lbs