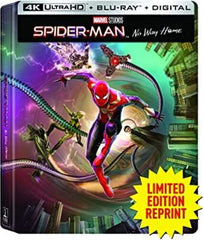 Spider-Man: No Way Home 2021 (Steelbook 4K Ultra HD+Blu-ray+Digital) Limited Edition 4K Ultra HD Rated: PG13 2022 Release Date: 9/27/2022
 Spider-Man: No Way Home (2021)Outed as Spider-Man at the windup of "Far from Home," Peter Parker (Tom Holland) faces devastating repercussions for himself and his loved ones. 
Turning to Dr. Strange (Benedict Cumberbatch) for a mystic mindwipe on all who learned his identity, the consequences bring a host of alternate-reality Spider-foes like the Green Goblin (Willem Dafoe), Dr. Octopus (Alfred Molina), and Electro (Jamie Foxx) to his plane-and Pete looks to surprising allies for the cleanup. Much-anticipated Spidey saga co-stars Zendaya, Jacob Batalon, Marisa Tomei. 148 min. C/Rtg: PG-13 Widescreen; Soundtrack: English.
STARRING: Zendaya, Benedict Cumberbatch, Jon Favreau, Marisa Tomei, Willem Dafoe, Alfred Molina, Andrew Garfield, Tobey Maguire, Paula Newsome, Martin Starr

UPC: 043396584501

RATED: PG13

GENRE: Action / Adventure
THEME: Marvel, Spider-Man

RELEASE DATE: 9/27/2022

PRODUCT ID: CTR58450UHD

SUBTITLES: CHN, ENG, FRE, KOR, POR, SPA, THA

CLOSED CAPTION: Yes

DUBBED: FRE, POR, SPA, THA

ORIGINAL LANGUAGE: ENG

ORIGINAL YEAR: 2021

RUN TIME: 148 minutes

DISTRIBUTOR/STUDIO: Sony Pictures

NUMBER OF DISCS: 2

WEIGHT: .22 lb