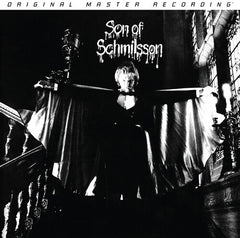 Harry Nilsson: Son Of Schmilsson 1972 Limited Edition (SACD) Mobile Fidelity HiRES 96/24 2021 Release Date: 11/26/2021
SACD edition. Mastered from the original analogue master tapes, Mobile Fidelity's numbered-edition of Son of Schmilsson play with full range dynamics and astute clarity. 
Working with producer Richard Perry and at London's Trident Studios for the second time-and collaborating with guests such as George Harrison, Ringo Starr, and Peter Frampton as well as choirs and orchestras-the singer captures a natural sound marked by lively tonalities, generous air, and stellar presence. All these aspects come to the fore with unprecedented degrees on these first-ever audiophile reissues of Nilsson's most controversial (and self-sabotaging) turn. The versatile array of instruments have room to breathe, while notes emerge with palpable immediacy and fade with realistic decay. And Nilsson's elastic voice projects with you-are-there resolution and transparency. Make no mistake: You'll hear exactly why this unique album continues to spark debate and remains a fan favorite. 
1

 Take 54

2

 Remember (Christmas)

3

 Joy

4

 Turn on Your Radio

5

 You're Breakin' My Heart

6

 Spaceman

7

 The Lottery Song

8

 At My Front Door

9

 Ambush

10

 I'd Rather Be Dead

11

 The Most Beautiful World in the World