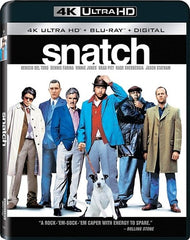 Snatch: (4K Ultra HD Blu-ray+Digital Copy) 2000 Rated: R Release Date: 7/13/2021
"Lock, Stock and Two Smoking Barrels" director Guy Ritchie returns with this audacious heist comedy-thriller. Two small-time London hoods in debt to a crooked promoter and a stolen diamond are the elements that bring together a colorful crew of smugglers, hit men, transatlantic crime bosses, boxing Irish Gypsies, and excitable dogs. Dennis Farina, Jason Flemyng, Alan Ford, Vinnie Jones, Brad Pitt, Jason Statham, and Benicio Del Toro star. 103 min.
Widescreen (Enhanced); Soundtracks: English Dolby Digital 5.1, French Dolby Digital stereo, Portuguese Dolby Digital stereo, Spanish Dolby Digital stereo; Subtitles: English (SDH), French, Portuguese, Spanish.
Starring: Benicio Del Toro, William Beck, Brad Pitt, Dennis Farina, Vinnie Jones, Matt Biffa, Charles Bodycomb, Adam Bohling, Mike Reid, Dan Cadan

UPC: 043396570320

Director: Guy Ritchie

Rated: R

Genre: Action / Adventure, Comedy Video

Release Date: 7/13/2021

Product ID: CTR57032UHD

Original Language: ENG

Original Year: 2000

Distributor/Studio: Sony Pictures

Number of Discs: 2

Weight: .22 lb