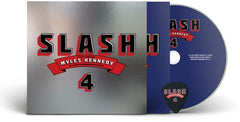 Slash: 4 (Feat. Myles Kennedy And The Conspirators) (With Book, Guitar Pick) (CD) 2022 Release Date: 2/11/2022
2022 release. It's been a decade since Slash featuring Myles Kennedy and the Conspirators released their debut album together, and since then have been on one of the more impressive and unrelenting tears in rock 'n' roll, issuing two more hard-hitting, highly-acclaimed records, and rocking stages all over the world.
Since their debut, Slash has amassed album sales of over 100M copies, garnered a Grammy Award and 7 Grammy nominations, and was inducted into the Rock & Roll Hall of Fame. Enter 4, the Dave Cobb-produced highly anticipated studio effort from SMKC. True to the band's expanding legacy, it's everything you've come to expect from Slash, Myles Kennedy, Todd Kerns (bass), Brent Fitz (drums) and Frank Sidoris (rhythm guitar)... but also unlike anything you've heard from them yet. This time out, Slash says, they captured a certain "magic" - the sound of five musicians and band mates listening to and playing off one another in the spirit of live, in-the-moment collaboration. "It has a very spontaneous, fun kind of thing to it, and I love that," Slash says of 4. "It's the sound of the five of us just jamming together in one room."
1

 The River Is Rising

2

 Whatever Gets You By

3

 C'est la Vie

4

 The Path Less Followed

5

 Fill My World

6

 Actions Speak Louder Than Words

7

 Spirit Love

8

 April Fool

9

 Call Off the Dogs

10

 Fall Back to Earth
Label: BMG Rights Managemen

UPC: 4050538714692

Genre: Rock

Release Date: 2/11/2022

Product ID: BGRT714692.2

Weight: .14 lb