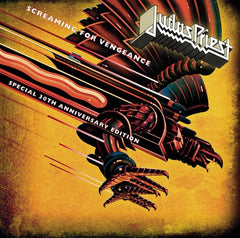 Judas Priest: Screaming For Vengeance: Special 30th Anniversary Edition (CD+DVD) DVD is Live From The 1983 US Festival- 2012 Release Date: 9/4/2012
SCREAMING FOR VENGEANCE SPECIAL 30TH ANNIVERSARY EDITION includes Judas Priests historic US Festival performance, available for the first time on DVD.
The CD includes 6 bonus tracks, 4 of which are previously unreleased live tracks recorded live on September 10, 1982 in San Antonio, Texas on the SCREAMING FOR VENGEANCE tour. Also included are never- seen before photos and new liner notes written by THAT METAL SHOWS, Eddie Trunk.