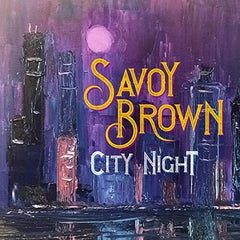 Savoy Brown: City Night 2017 12 High Energy Blues Tracks (LP) Release 2019 Date: 6/21/2019
Vinyl LP pressing. Over 50 years of rocking the blues, Savoy Brown, with leader and founder Kim Simmonds a the helm, return with City Night, their 40th album release. On the back of a number one Billboard blues hit in 2017, expectations are high for this new band offering. 
The album features Kim Simmonds on vocals and searing lead guitar and he is complemented with the most consistent lineup in the bands history, going strong for more than 10 years now. City Night is comprised of 12 high energy blues rock songs to surely please the worldwide fan base. "Walking On Hot Stones", "Payback Time" and "Don't Hang Me Out To Dry" will catch the attention of radio DJ's looking for the fresh new sound the Savoy Brown brings to roots music. 
1

 Ain't Gonna Worry

2

 City Night

3

 Conjure Rhythm

4

 Don't Hang Me Out to Dry

5

 Hang in Tough

6

 Neighborhood Blues

7

 Payback Time

8

 Red Light Mama

9

 Selfish World

10

 Superstitious Woman

11

 Walking on Hot Stones

12

 Wearing Thin
LABEL: Quarto Valley Recs

UPC: 805859068627

GENRE: Blues

RELEASE DATE: 6/21/2019

PRODUCT ID: QVR115.1

LAST RETURN DATE: 6/21/2019

THIS PRODUCT IS NON-RETURNABLE

WEIGHT: 1.27 lbs