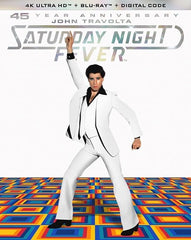 Saturday Night Fever 1977 45 Year Anniversary (4K Mastering, Blu-ray Widescreen, Dolby, AC-3) 4K Ultra HD Rated: UNR 2022 Release Date: 11/8/2022
Celebrate the film that captivated audiences the world over when Saturday Night Fever 45th Anniversary Director's Cut comes to select cinemas for a special two-day event. Come see the iconic film that catapulted John Travolta to superstardom, garnered him an Oscar (R) nomination and captivated audiences the world over.
Travolta commands the screen as Tony Manero, a restless Brooklyn rebel who escapes problems at home and an uncertain future every Saturday night when he shines as king of the disco dance floor. The event includes a look back at the legacy of Saturday Night Fever with interviews from the director and cast. 
STARRING: John Travolta, Karen Lynn Gorney, Barry Miller, Joseph Cali, Paul Pape, Donna Pescow, Bruce Ornstein, Julie Bovasso, Martin Shakar, Sam Coppola

UPC: 191329233795 

DIRECTOR: John Badham

RATED: UNR

GENRE: Drama

RELEASE DATE: 11/8/2022

PRODUCT ID: PRT1000820172UHD

SUBTITLES: ENG, FRE

DUBBED: FRE

ORIGINAL LANGUAGE: ENG

ORIGINAL YEAR: 1977

RUN TIME: 122 minutes

DISTRIBUTOR/STUDIO: Paramount

NUMBER OF DISCS: 2

WEIGHT: .44 lb