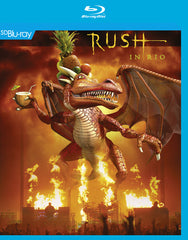 Rush: Rush In Rio Live Maracana Brazil 2002 Import) (Blu-ray) DTS-HD Master Audio Release Date: 6/23/2015
Import Blu-Ray/Region All pressing. Eagle Vision s SD Blu-ray range presents upscale standard definition original material with Dolby True HD surround sound and Stereo for the best possible quality. Rush In Rio was filmed at Brazil s world famous football stadium, the Maracanã, in Rio de Janeiro on 23rd November 2002, the last night of the Vapor Trails tour.  
The Vapor Trails album and subsequent tour had marked Rush s return to activity after a hiatus of several years whilst drummer Neil Peart came to terms with various tragedies in his life. It was in every way a triumphant return with the crowds at the Brazilian dates being the largest the band had ever played for. The show is now being released on SD Blu-ray for the first time outside of the R40 box set. BLU-RAY INFORMATION: BR Format: Region Free / Screen Format: 4:3 LB / Sound Formats: Dolby TrueHD 5.1, Dolby TrueHD Stereo / Running Time: 175 mins approx. / TRACKLISTING: 1) Tom Sawyer 2) Distant Early Warning 3) New World Man 4) Roll The Bones 5) Earthshine 6) YYZ 7) The Pass 8) Bravado 9) The Big Money 10) The Trees 11) Freewill 12) Closer To The Heart 13) Natural Science 14) One Little Victory 15) Driven 16) Ghost Rider 17) Secret Touch 18) Dreamline 19) Red Sector A 20) Leave That Thing Alone 21) O Baterista 22) Resist 23) 2112 24) Limelight 25) La Villa Strangiato 26) The Spirit Of Radio 27) Encore Medley: By-Tor And The Snow Dog / Cygnus X-1 / Working Man. / BONUS FEATURES: The Documentary - The Boys In Brazil / MX Multiangle versions of: (1) YYZ (2) O Baterista (3) La Villa Strangiato / Easter Eggs: (1) By-Tor And The Snow Dog animation (2) Anthem (1975 performance).