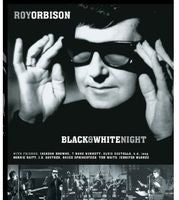 Roy Orbison: Black & White Night 1988 DVD 2013 B&W 16:9 DTS 5.1 Bruce Springsteen, Elvis Costello, Bonnie Raitt, k.d. lang, Jackson Browne, Tom Waits, and T.Bone Burnett
Reissue of this classic television special originally broadcast on January 3, 1988 starring Hall of Fame singer/songwriter Roy Orbison. The special was filmed entirely in black and white. Put together by musical director T-Bone Burnett, Orbison was accompanied by a supporting backing band which included many notable musical performers. All were fans who volunteered to participate in the special. 
Other celebrity admirers of Orbison were in the audience, including Billy Idol, Patrick Swayze, Sandra Bernhard, and Kris Kristofferson. The backing band was the TCB Band, which accompanied Elvis Presley from 1969 until his death in 1977. Male background vocalists, some of whom also joined in on guitar, were Bruce Springsteen, Tom Waits, Elvis Costello, Jackson Browne, J.D. Souther, and Steven Soles. The female background vocalists were k.d. lang, Jennifer Warnes, Cindy Bullens and Bonnie Raitt.
Product Reviews
One of the most distinctive vocalists in the history of rock and roll, Roy Orbison was in the midst of a well-deserved comeback in 1987 when he performed this special concert for television, beautifully filmed in black and white and featuring some famous friends helping him out. Orbison is joined onstage by Bruce Springsteen, Elvis Costello, Bonnie Raitt, k.d. lang, Jackson Browne, Tom Waits, and T.Bone Burnett as he sings "Oh, Pretty Woman," "Only the Lonely," "It's Over," "Blue Bayou," "Crying," "In Dreams," "Running Scared," and ten other classics. ~ Mark Deming, Rovi
Details
| | |
| --- | --- |
| | Roy Orbison |
| | Black & White Night |
| | Music Video & Concerts, Rock |
| | Rock / Pop, Music Video (Concert / Performance) |
| | 11 November 2013 |
| | Unknown |
| | DVD |
| | |
| | 888837597593 |
| | G: DVD |
Technical Information 
| | |
| --- | --- |
| | 11 November 2013 |
| | SBME/LEGACY ( SNYL ) |
| | 1: USA, Canada |
| | Discs:1 ~ Format:Ntsc ~ Region:1 |
| | Super Jewel Box Plus Orbison,Roy Dvd-Standard |