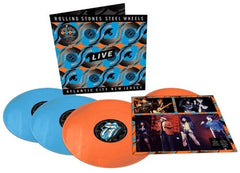 Rolling Stones: Steel Wheels Live (Live From Atlantic City NJ 1989) Oversize Item Split 180 Gram Vinyl, Colored Vinyl, Blue) (4LP) 2020 Release Date: 9/25/2020
Description
Limited Edition 180g Tangerine & Sky Blue Vinyl 4LP!
Having not hit the road for most of the 80s, The Steel Wheels Tour was an astounding return for the Rolling Stones, not least as it was the longest tour they had by that point undertaken.
It was also to be their last with Bill Wyman. Steel Wheels Live was recorded towards the end of the band's 60-date run through the stadiums of North America, in the second half of 1989. The gate-busting ticket sales were one thing, but the stage and lighting design of The Steel Wheels Tour set the pace for superstar tours as we know them today.Special guest appearances from Axl Rose, Izzy Stradlin, Eric Clapton and John Lee Hooker on this Atlantic City date make this an even more extraordinary document of the band's return to touring.Presented in 180 gram blue and orange coloured vinyl.
FEATURES:
Limited Edition

180g Vinyl

4LP

Tangerine & Sky Blue Vinyl

Special guests Axl Rose, Izzy Stradlin, Eric Clapton & John Lee Hooker
Steel Wheels Live (Live From Atlantic City, NJ, 1989)
- Disc 1 -

1

 Intro

2

 Start Me Up

3

 Bitch

4

 Sad Sad Sad

5

 Undercover of the Night

6

 Harlem Shuffle

- Disc 2 -

1

 Tumbling Dice

2

 Miss You

3

 Terrifying

4

 Ruby Tuesday

- Disc 3 -

1

 Salt of the Earth (Featuring Axl Rose & Izzy Stradlin)

2

 Rock and a Hard Place

3

 Mixed Emotions

- Disc 4 -

1

 Honky Tonk Women

2

 Midnight Rambler

- Disc 5 -

1

 You Can't Always Get What You Want

2

 Little Red Rooster (Featuring Eric Clapton)

3

 Boogie Chillen (Featuring Eric Clapton & John Lee Hooker)

- Disc 6 -

1

 Can't Be Seen

2

 Happy

3

 Paint It Black

- Disc 7 -

1

 2,000 Light Years from Home

2

 Sympathy for the Devil

3

 Gimme Shelter

- Disc 8 -

1

 It's Only Rock N Roll (But I Like It)

2

 Brown Sugar

3

 (I Can't Get No) Satisfaction

4

 Jumpin' Jack Flash
Label: Eagle Records

Number of Discs: 4

UPC: 602507449445

Genre: Rock
Theme: Grammy Winning Artist

Release Date: 9/25/2020

Product ID: EGLR744944.1

Last Return Date: 9/25/2020

This product is non-returnable

Weight: 2.21 lbs