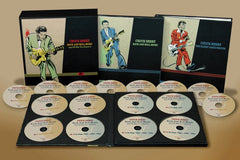 Chuck Berry: Rock & Roll Music-Any Old Way You Choose It Import Germany (16 CD BOX SET) 2014 Release Date: 10/28/2014
16-CD boxed set (28 x 28 x 6 cms) with 2 hardcover books (356 total pages) in a clothbound slipcase, 396 tracks, total playing time: 21 hours and 11 minutes.'If you tried to give rock and roll another name, you might call it 'Chuck Berry'.' (John Lennon) Since our launch in 1975, we at Bear Family have wanted to honor Chuck Berry.
There have been endless Chuck Berry compilations-more than anyone could possibly tabulate, but we wanted to do the ultimate Chuck Berry compilation, containing: Every single and LP track, starting with a rare pre-Chess single with Joe Alexander from 1954 All the celebrated and legendary Chess singles and album cuts from 1955 to 1966 and from 1969 to 1974 All the Mercury recordings, and the Atco album Every surviving alternate take as well as classic live recordings from 1956 to 1972 Exclusive introduction by Sir Paul McCartney But there's more! Expatriate British photographer Bill Greensmith lives in St. Louis and a few years back he found the photo archive of Chuck Berry's uncle, Harry Davis. Included are many previously unseen images of Chuck performing in St. Louis and hanging out with friends and family. In these images, Chuck is unguarded and relaxed. We also see him performing at blues nightspots in and around St. Louis before he was famous. These photos, included with this set in a high quality 104-page hardbound book, will open your eyes to Chuck Berry as you've never seen him. Plus, there's a second 252-page hardbound book with a definitive essay from Chuck's biographer, Bruce Pegg, additional texts by Mike Snow and Roger Fairhurst, a comprehensive discography by Fred Rothwell, hundreds of published and unpublished photos, including several images made by respected French photographer Jean-Marie Perrier in 1964. 
LABEL: Bear Family

NUMBER OF DISCS: 16

UPC: 5397102172731

GENRE: Oldies
THEME: Guitar Heroes

RELEASE DATE: 10/28/2014

PRODUCT ID: BFY2785711.2

WEIGHT: 7.19 lbs