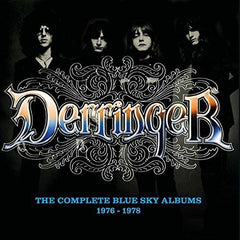 Rick Derringer: Complete Blue Sky Albums 1976-1978 (5CD Box set) [Import] (United Kingdom CD Release Date: 2/3/2017
Limited five CD box. This release collects together music made across three short but prolific years, when the band Derringer released three studio albums plus two live albums. Rick Derringer first found fame aged just 17 in 1965, when his band The McCoys had a #1 hit in America with 'Hang On Sloopy', famously knocking The Beatles' 'Yesterday' off the top spot.
Subsequently making significant appearances with Edgar Winter and Johnny Winter, as well as Steely Dan and Alice Cooper, and even squeezing in a solo hit with 1973's 'Rock 'N' Roll, Hoochie Koo', before deciding to put together his own band in 1976. Naming the band Derringer, the singer and guitarist was joined by bassist Kenny Aaronson, future Black Sabbath and Dio drummer, Vinny Appice, with the quartet completed by guitarist Danny Johnson. Going for a rockier, harder, less poppy sound than Rick's previous musical excursions, Derringer signed to Blue Sky Records, a subsidiary of Columbia Records, in 1976. This set includes the albums Derringer, Live In Cleveland, Sweet Evil, Derringer Live and If I Weren't So Romantic I'd Shoot You. 
- Disc 1 -

1

 Let Me in

2

 You Can Have Me

3

 Loosen Up Your Grip

4

 Envy

5

 Comes a Woman

6

 Sailor

7

 Beyond the Universe

8

 Goodbye Again

9

 Let Me in (Mono Version)

- Disc 2 -

1

 Let Me in

2

 Teenage Love Affair

3

 Sailor

4

 Beyond the Universe

5

 Rock and Roll, Hoochie Koo

6

 Roll with Me

7

 Rebel Rebel

- Disc 3 -

1

 Donâ™T Stop Loving Me

2

 Sittin♠By the Pool

3

 Keep on Makin♠Love

4

 One Eyed Jack

5

 Letâ™S Make It

6

 Sweet Evil

7

 Drivin♠Sideways

8

 I Didnâ™T Ask to Be Born

9

 Donâ™T Stop Loving Me (Mono Version)

- Disc 4 -

1

 Let Me in

2

 Teenage Love Affair

3

 Sailor

4

 Beyond the Universe

5

 Sittin♠By the Pool

6

 Uncomplicated

7

 Still Alive and Well

8

 Rock and Roll, Hoochie Koo

- Disc 5 -

1

 It Ainâ™T Funny

2

 Midnight Road

3

 If I Werenâ™T So Romantic, Iâ™D Shoot You

4

 Ez Action

5

 Lawyers, Guns and Money

6

 Power of Love

7

 Sleepless

8

 Tonight

9

 Rocka Rolla

10

 Attitude

11

 Monomania

12

 Lawyers, Guns and Money (Mono Version)
LABEL: Cherry Red

NUMBER OF DISCS: 5

UPC: 5013929918108

GENRE: Heavy Metal

RELEASE DATE: 2/3/2017

PRODUCT ID: CRR5050058.2

LAST RETURN DATE: 2/3/2017

THIS PRODUCT IS NON-RETURNABLE

THIS IS AN IMPORT PRODUCT

WEIGHT: .38 lb